Fire Fighting Courses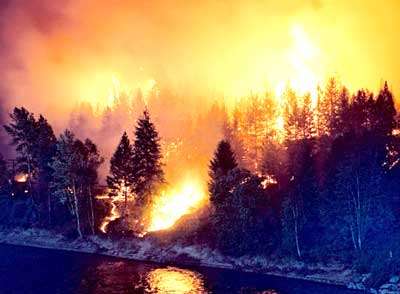 S 100
S-100 Basic Fire Suppression and Safety Course:
This course was developed by the BC Forest Service Protection Branch to meet regulatory requirements including WorkSafeBC, which states that all workers fighting forest fires must be trained and then retrained annually. This includes people who are hired to temporarily fight fires.
It is intended for members of fire departments, industry, community college students, first nations and those interested in wildland fire fighting.
Traditionally this course is delivered to students in two parts: a classroom session followed by a practical outdoor session with working equipment.
PART 1 – Theory Component
| | |
| --- | --- |
| • | Wildfire Detection and Reporting |
| • | Fire Behavior |
| • | Fire line Organization |
| • | Fire line Safety |
| • | Emergency Fireline Communications |
| • | Fire Suppression |
| • | Ignition Operations |
| • | Hand Tools |
| • | Fireline Heavy Equipment |
| • | Water Delivery Systems |
| • | Helicopter Use and Safety |
| • | Fireline Aircraft (Fixed Wing) |
| • | Wildland/Urban Interface Safety |
| • | Personal Safety |
| • | WHIMIS & Fire Foam |
PART 2 - Practical Component
| | |
| --- | --- |
| • | Pumps & Trouble Shooting |
| • | Tool Box & Hand Tools |
| • | Hose Handling Techniques |
| • | Use of Class A Foam |
Prerequisites: None
Presentation: 2 days - Lectures, classroom and field exercises A mark of 70% will be required for successful completion for theory and practical components

Fire Smarting